A new waste solution for households in Trondheim is now being introduced in Trondheim. The process started in February 2023 and will continue in the next years.
The most significant change is that food waste will now be collected for recycling in separate containers.
Househoulds that today have three plastic containers outside the house, will be the first to get the new system.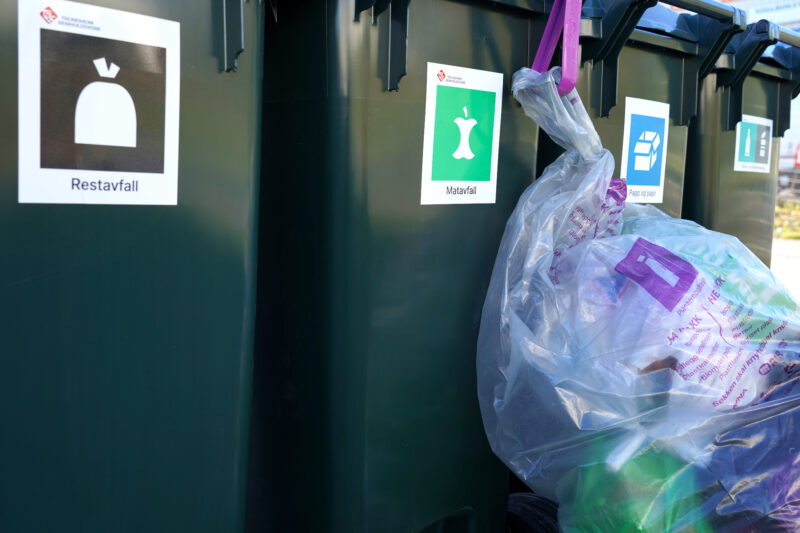 This is the scheduele:
Februar – desember 2023:
✅February: Olderdalen, Reppe, Vikåsen, Ranheim, Væretrøa
✅March: Ranheim, Rotvoll, Lade, Dalen
✅April: Leangen, Charlottenlund, Strindheim, Bromstad, Brøset, Tunga, Brundalen, Jakobsli
✅May: Rosenborg, Persaunet, Tyholt
✅June: Tyholt, Singsaker, Moholt, Sorgenfri, Nardo
August/September: Nardo, Nidarvoll, Othilienborg, Steinan, Hoeggen, Stubban, Utleira, Fossegrenda
September: Risvollan, Steinan, Loholt, Stokkanhaugen, Granåslia, Angelltrøa, Jakobsli
October: Utleira, Bjørkmyr, Fortunalia, Jonsvatnet, Bratsberg, Klett, Lian, Våddan, Smistad
October/November: Bratsberg, Klæbu, Tanem
November/December: Sjetnemarka, Tiller, Sandmoen
January – June  2024:
January 2024: Byneset, Ringvål, Leinstrand, Spongdal, Rye, Skjetlein
January/February 2024: Heimdal, Vestre Rosten, Selsbakk, Romolslia, Okstadøy, Nyveilia
February 2024: Heimdal, Kattem, Lundåsen, Kroppanmarka, Okstad, Flatåsen, Kolsås, Saupstad, Huseby, Fossegrenda
March 2024: Flatåsen, Stavset, Kystad, Ugla, Dalgård
April 2024: Ugla, Kyvannet, Selsbakk, Hallset, Ferstad, Havstad
April/May 2024: Munkvoll, Hoem, Havstein, Nyborg, Stavne, Sverresborg 
May 2024: Sverresborg, Hammersborg, Marienborg, Steinberget, Fagerlia, Ilsvika, Ila, Trolla, Øya, Elgeseter
With the new solution there will now be four containers, as well as plastic bags and a hook for plastic packaging. The container for plastic packaging will be removed.
This is the normal set up of waste containers outside of the house: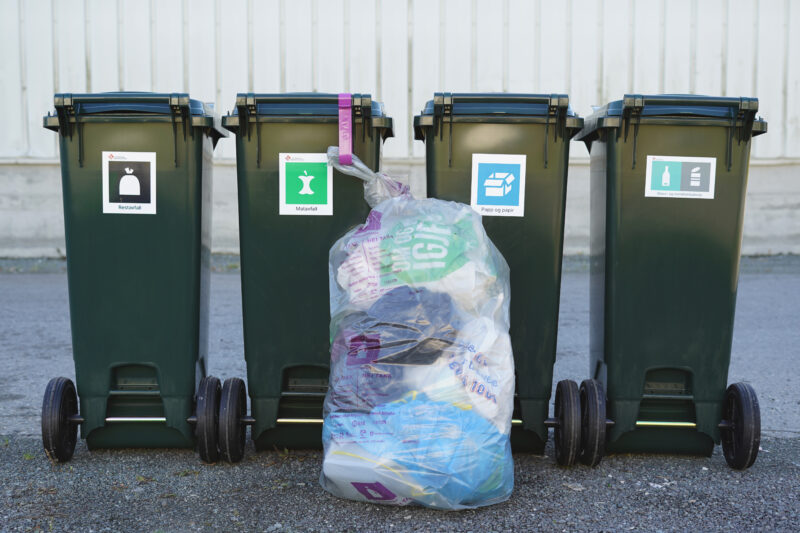 Container for food waste
Container for glass- and metal packaging
Container for general waste (same as before)
Container for cardboard and paper
Purple plastic hook on container, for plastic bag(s) for plastic packaging
We encourage all households to download the app «Tømmeplan Trondheim» in App Store or Google Play to get push notifications ahead of waste collection in your street.
What is food waste? Check this table for guidance:  Sorting table – Food waste (PDF)
All home owners will receice information ahead by mail, and registered residents at the adress will also be informed by SMS.
In addition to the new containers, a starter pack with the necessary equipment for all properties will be distributed. This includes information, a specially designed food waste bucket, compostable biobags and plastic bags for plastic packaging.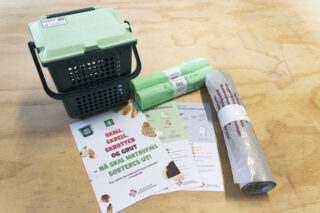 Households that have large steel containers, either on the surface or buried in the ground, outside apartment buildings, will also get the new solution.
That also applies to households that have an automated vacuum waste collection system. Each area will be assessed separately and this process will take years to complete. We are also considering how the new solution will be implented for residents in Midtbyen, Trondheim city centre.
Residents and home owners will be informed ahead.